Ellen stole my joke.
Yep, that Ellen. The one and only.
Back when Hilary Clinton was trying to get a Presidential nomination (circa 2007), I made a joke to my family that maybe it would be good to have women run the world because then there wouldn't be any war.

We would all just hold grudges and not speak to one another.
Well, during election week this year, I just happened to have Ellen on and there she was doing her
monologue, telling my joke.

Of course, I shouted at the TV like she could hear me.
She couldn't.
The audience laughed (Good. My joke is funny) and she moved on. Only to go home at the end of the day and count her big piles of money.
Do I sound bitter?


I'm not at all.
She has a tough job and I couldn't do it.
Well, except that one joke. I can do that joke. It is my joke after all.
I am truly happy for her and love that she brings laughter to the world.
So my Christmas mantel is dedicated to
Ellen
(joke stealer)
.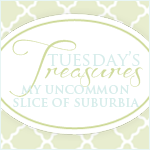 http://www.inspiredbycharm.com/